EMEET GeniusCall HS100
HS100 is a professional conference headset with smart noise cancellation and ambient sound adjustment.
Crisp and Clear Voice

Two mics pick up your voice with another two canceling ambient noise. Your voice will sound clear and crisp.

Three Modes for Different Scenarios

By pressing the control buttons, you can choose to shut out ambient noise and concentrate on your work or hear what happens around you. Rotate the boom arm to mute or unmute the microphone.

Strong Noise Cancellation & Comfortable Wearing

The headsets, designed with high-protein earmuffs, is able to proof external noise fully; memory foam earpads and ultra-soft materials could reduce the pressure on the ears, which offers you a more comfortable wearing experience during long-time meetings.

Multiple Connection Methods

Use the 5.0 Bluetooth, USB Dongle, or USB cable to connect the headset to a laptop, a desktop, a tablet, or a mobile phone; it supports multipoint Bluetooth, so you can connect two devices with the headset at the same time, avoiding miss any important calls during a meeting.

24-Hour Talk Time

Up to 24-hour talk time ensures you're always ready for meetings. Even if there is an urgent meeting, fast charging the headphone for 15 minutes supports up to 4-hour talk.
シャープでクリアなボイス

2つのマイクでボイスを拾い、別の2つのマイクで環境音をキャンセルします。あなたのボイスを、クリアに相手に届けます。

異なるシナリオに対応した3つのモード

コントロールボタンを押して、周囲のノイズをシャットアウトして作業に集中するモードと、周囲の音が聞こえるモードを選択できます。マイクのアームを回転させることで、ミュートとミュート解除の操作が実行できます。

強力なノイズキャンセリング機能と心地良い装着感

プロテインレザー製のイヤーマフを採用したヘッドセットで、外部のノイズを完全にシャットアウト可能。 低反発イヤーパッドとなめらかでソフトな素材によって耳まわりにかかる圧力を軽減し、長時間の会議中にも快適な装着感を維持します。

複数のデバイスと接続可能

5.0 Bluetooth、USBドングル、USBケーブルのいずれかを使用して、ヘッドセットをノートPCやデスクトップPC、タブレット、携帯電話と接続します。マルチポイントBluetooth をサポートしており、ヘッドセットを同時に2つのデバイスと接続可能。会議中に入ってくる重要な通話も見逃しません。

24時間、通話をサポート

最大 24 時間の連続通話が可能。あらゆる会議をサポートします。急な会議のシーンでも、ヘッドセットを 15 分間急速充電するだけで最大 4 時間の通話が可能です。
For buying in bulk or other inquiries, feel free to contact us.
Exclusive Extended Warranty
Exclusive Extended Warranty
Hassle-free Customer Service
Hassle-free Customer Service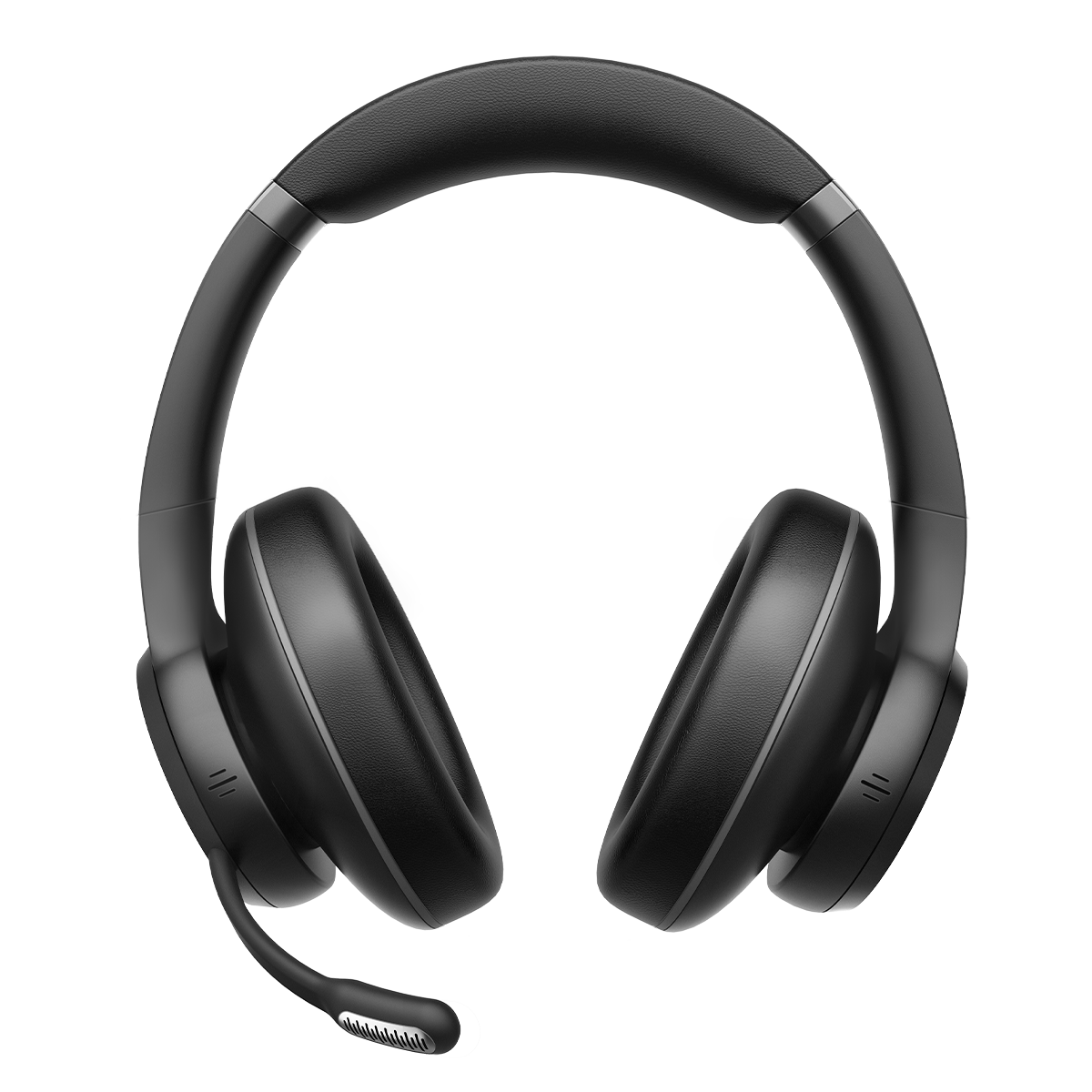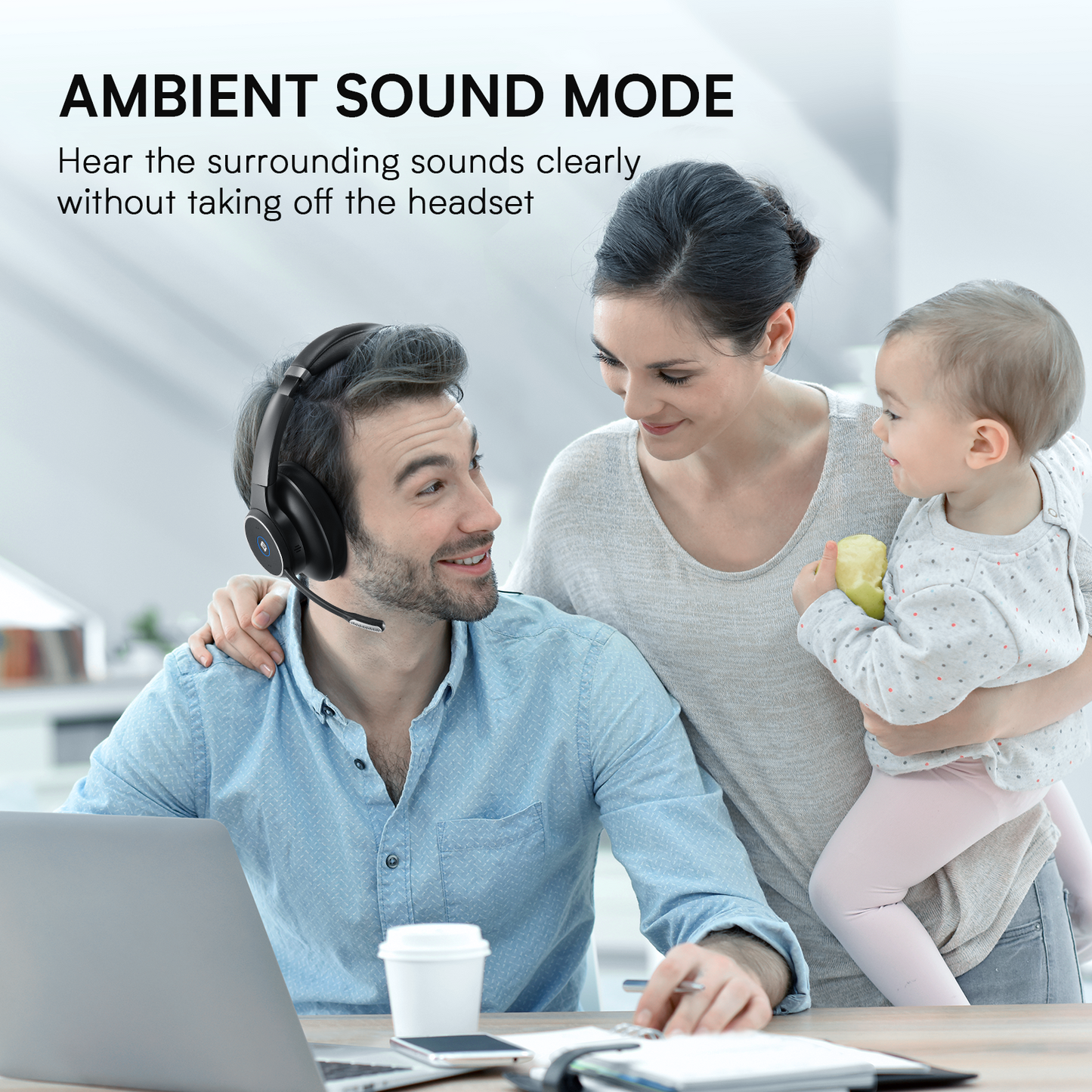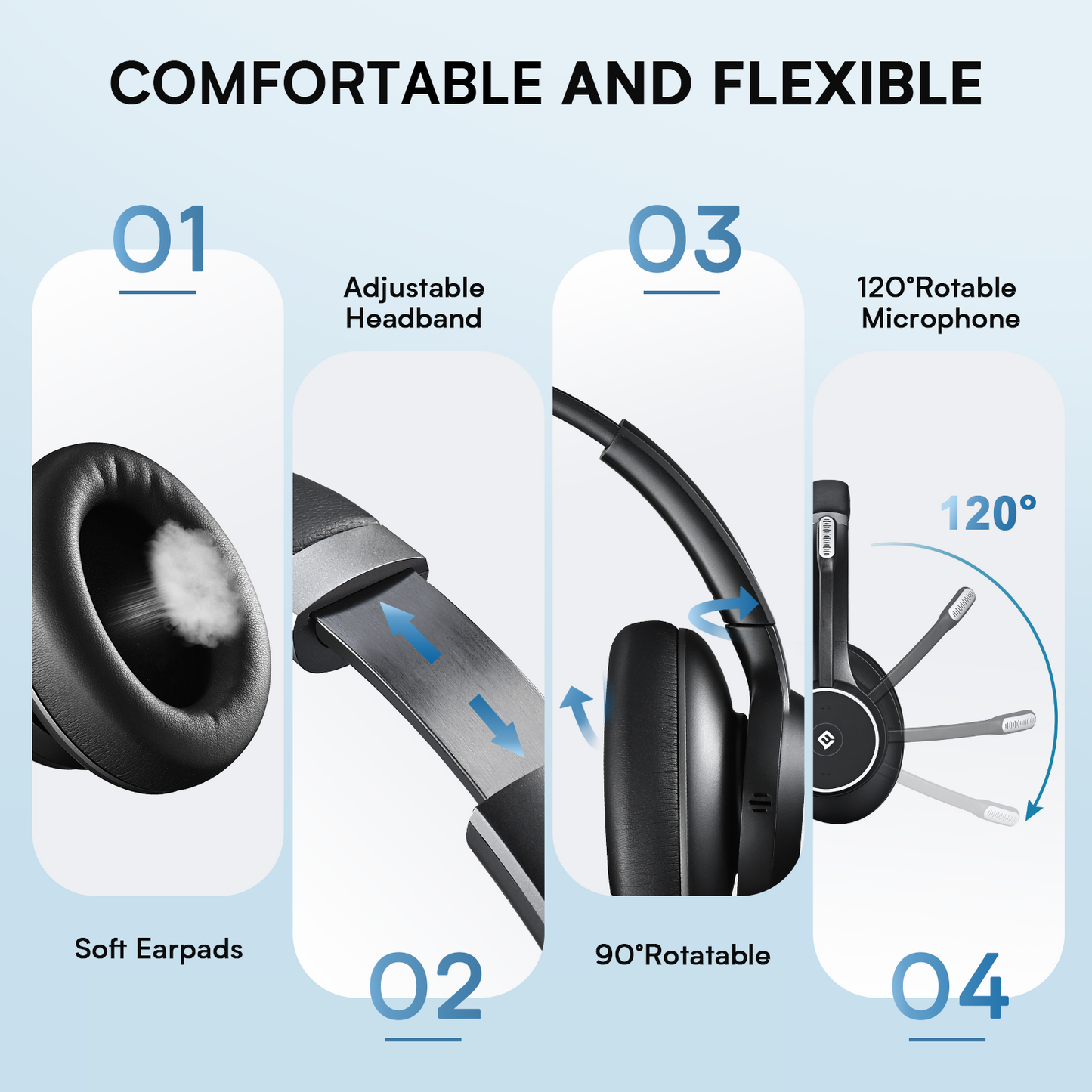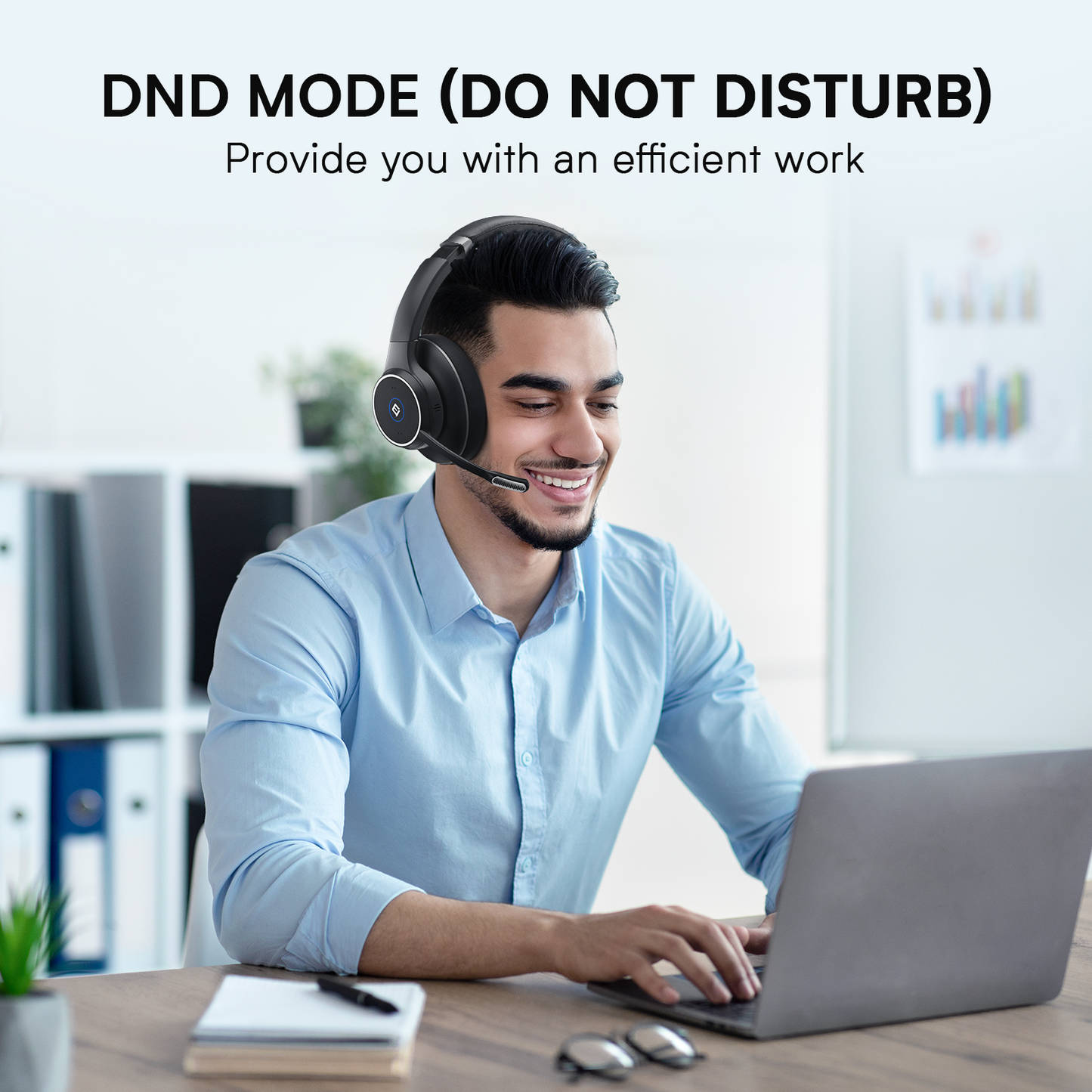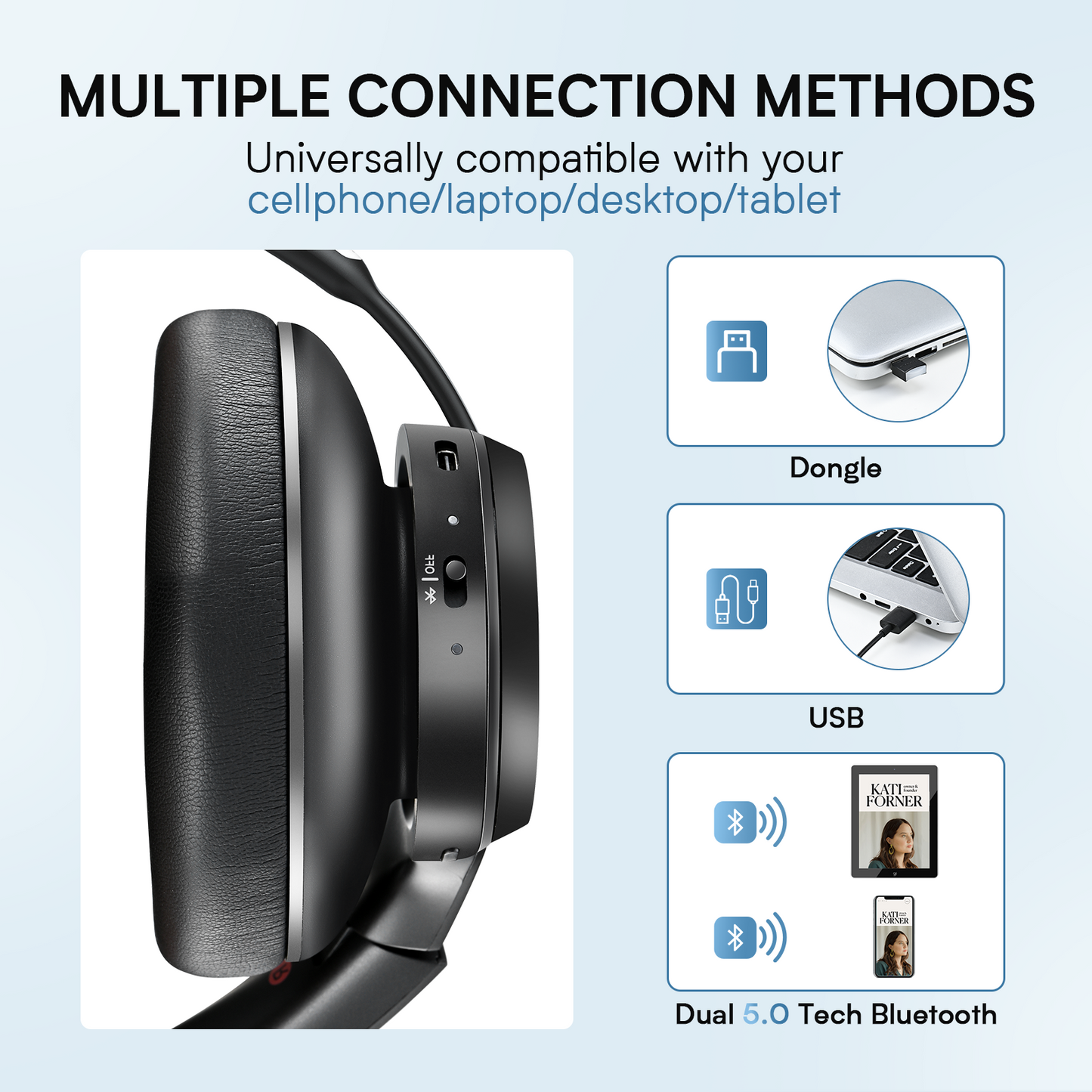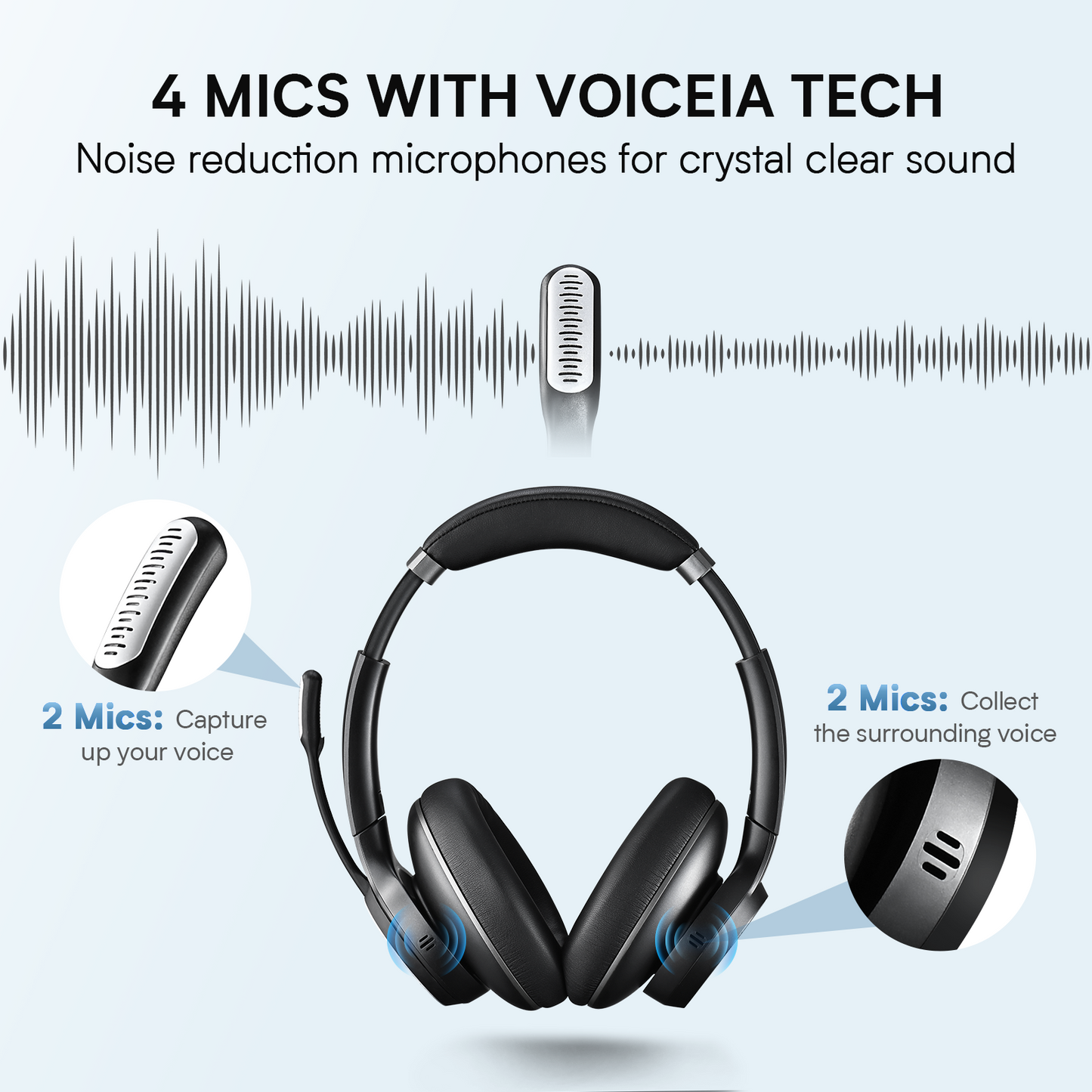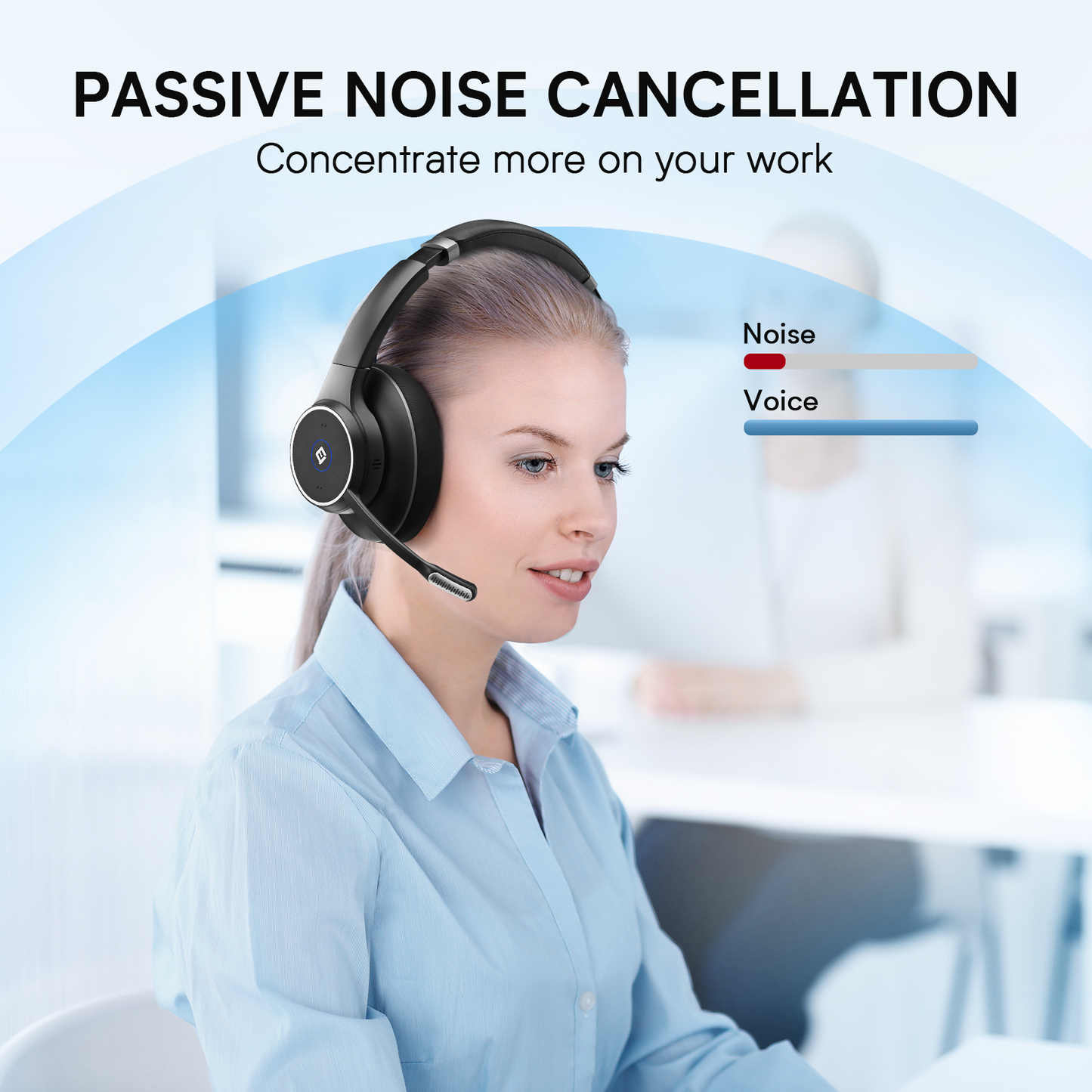 3 Modes for Different Scenarios
The noise-canceling mode eliminates the ambient noise, allowing you to concentrate on work. Switching to the ambient sound mode, you can hear the sounds around you. Or if you need a private conversation during a call, you can mute the mics to avoid being heard by the other side.

Comfortable Wearing
To achieve noise canceling doesn't mean your ears have to suffer. The earcup and headband of our headset are equipped with soft memory foam and protein leather, so you can wear it all day long without discomfort.

Wirelessly Connect Two Devices at the Same Time
You can connect your laptop and mobile phone with the headphone at the same time. Originally working with your laptop for business meetings, the headphone can be switched to work with your phone when a call jumps in. You don't have to take off the headphone and your voice won't be heard by the meeting participants.

Strong Compatibility
HS100 is compatible with the major communication App, such as Skype, Microsoft Lync, Google Hangout, Google Voice, Avaya, Cisco WebEx, Microsoft Teams, etc.*Press to respond to the pick up/hang up function of Skype for Business

24-Hour Talk Time
Worry about the low battery when using earphones for a long time? No need to worry from now on: 24-hour battery life ensures you're always ready for meetings. Don't be nervous when the power of the headset is low during the meeting because fast charging it for 15 minutes supports up to 4-hour talk.

TECH SPECS
MODEL
Product Type:
Bluetooth Headset
AUDIO
Microphone Technology:
Technology: Full Duplex, Noise & Echo Cancellation
BATTERY
Battery Life (Music):
30h
Fast Charge:
15min Charge for 4h of Talk time
CONNECTION
Connection:
USB-C Cable, Bluetooth, USB Dongle
USB Cable:
Type A - C, 2m
Wireless Frequency:
Bluetooth 5.0
Bluetooth Link Adapter:
EMEET A300
Bluetooth Range:
10m(33ft)
Connected Devices:
2 Devices Simultaneously via Bluetooth
USAGE
Recommended For:
Workspace & Home Office
WHAT'S IN THE BOX
EMEET GeniusCall HS100
Safety Guide
USB Dongle A300
USB-C Cable
User Manual
Carrying Bag
FAQ
What is smart wear detection?

Play music:

Take off the headset when listening to music, playing music will be paused automatically.

Put the headset back on, music will automatically resume.


Make calls:

When there is an incoming call, take off the headset, the call will be automatically answered.
How to use the device to make calls?

This function can be used on telephone communication and Skype for business when the device is connected to your mobile/computer.

Use the multi-function button during a callShort press the button to answer and hang up calls.

Long press the button for 3 seconds to reject calls.

Double click the button of the device to call back.How to mute the microphone of the device?

Rotate the mic boom:

Rotate the mic boom upwards, the microphone will be muted.Rotate the mic boom downwards, the microphone will be unmuted.

And the device will broadcast the "mute/unmute" prompt tone to remind you.

Pressing the mute button:

Short press this button to mute the device, unmute it by pressing this button again.
( カスタマー サービス )
お問い合わせお待ちしております。
Choosing a selection results in a full page refresh.