M3*2 + Daisy Chain
Translation missing: en.EMEET OfficeCore M3 (2 Pack with Daisy Chain) is a bundle of 2 EMEET M3 speakerphones and an EMEET daisy chain cable, suitable for meetings with a large number of participants up to 20
¥34,398
¥42,299
メーカー希望小売価格
Exclusive

 

VoiceIA4.1 Algorithm for Noise Reduction:

 Effectively eliminates residual echoes and common background noise such as keyboard clatter, paper swishing, door creaking, and more.

5W Full-duplex Speaker

: Achieves smooth communication when two sides are talking simultaneously. The sound can be adjusted loud enough to support meetings of 12people.

18-Hour Talk Time

: With a 5200mAh rechargeable battery fully charged, it can operate for conference calls totaling 18 hours.

Professional Voice Pickup

: 4 omnidirectional microphones pick up your voice from any direction. When you move around the room, your voice is adjusted to a proper volume as if you stay in front of the desk.

Reddot 2022 Winner

: Adopts a sleek and elegant purple design.
For buying in bulk or other inquiries, feel free to contact us.
Exclusive Extended Warranty
Exclusive Extended Warranty
Hassle-free Customer Service
Hassle-free Customer Service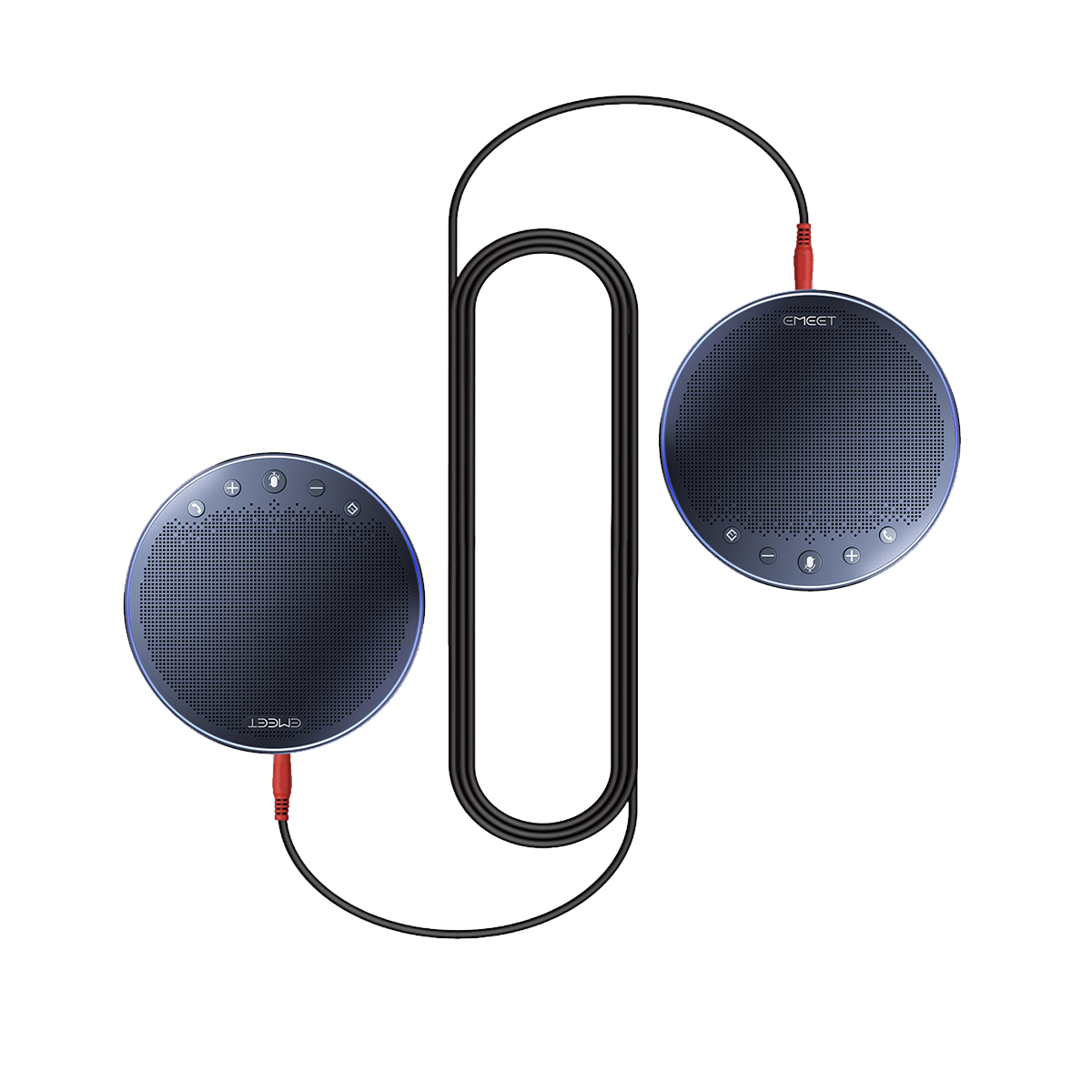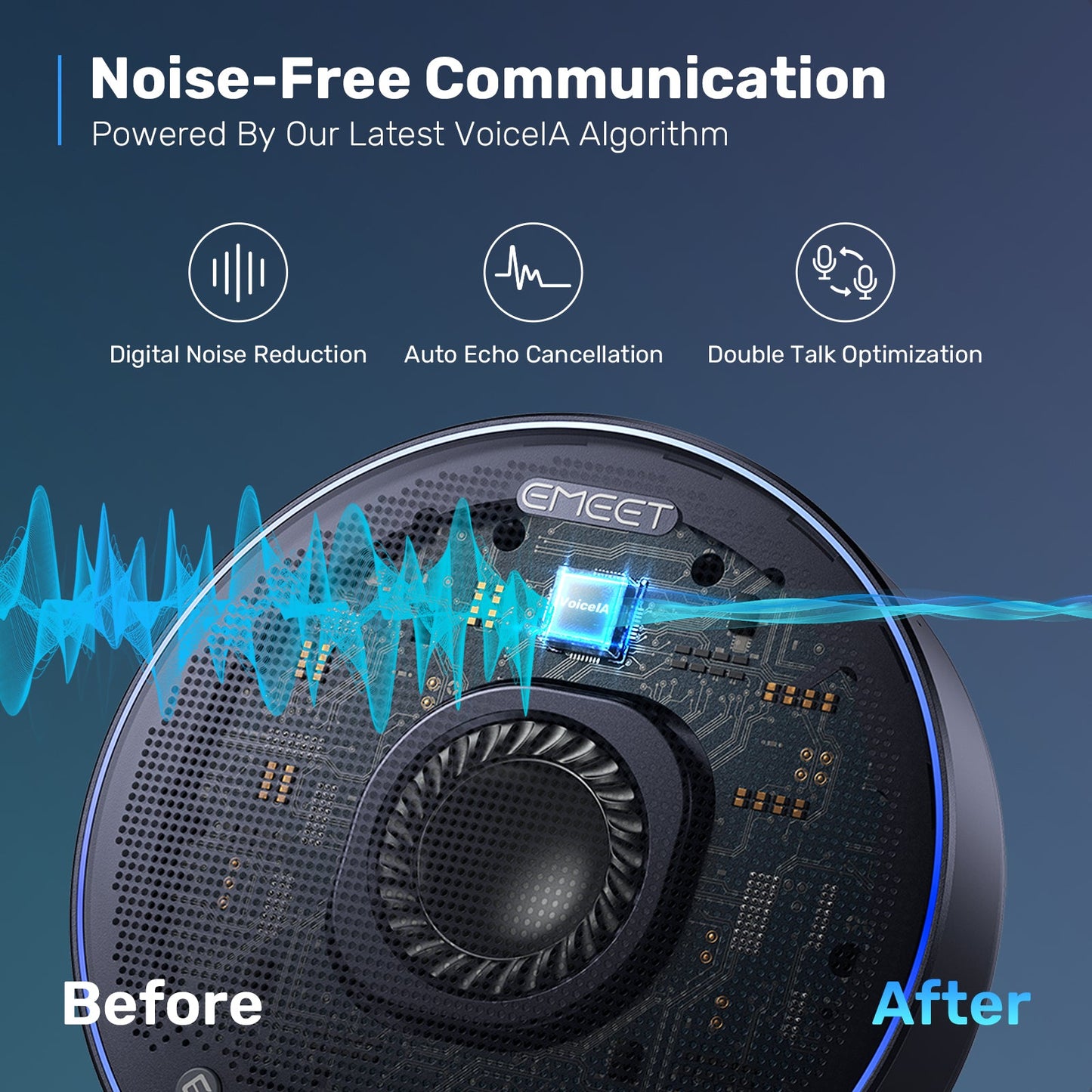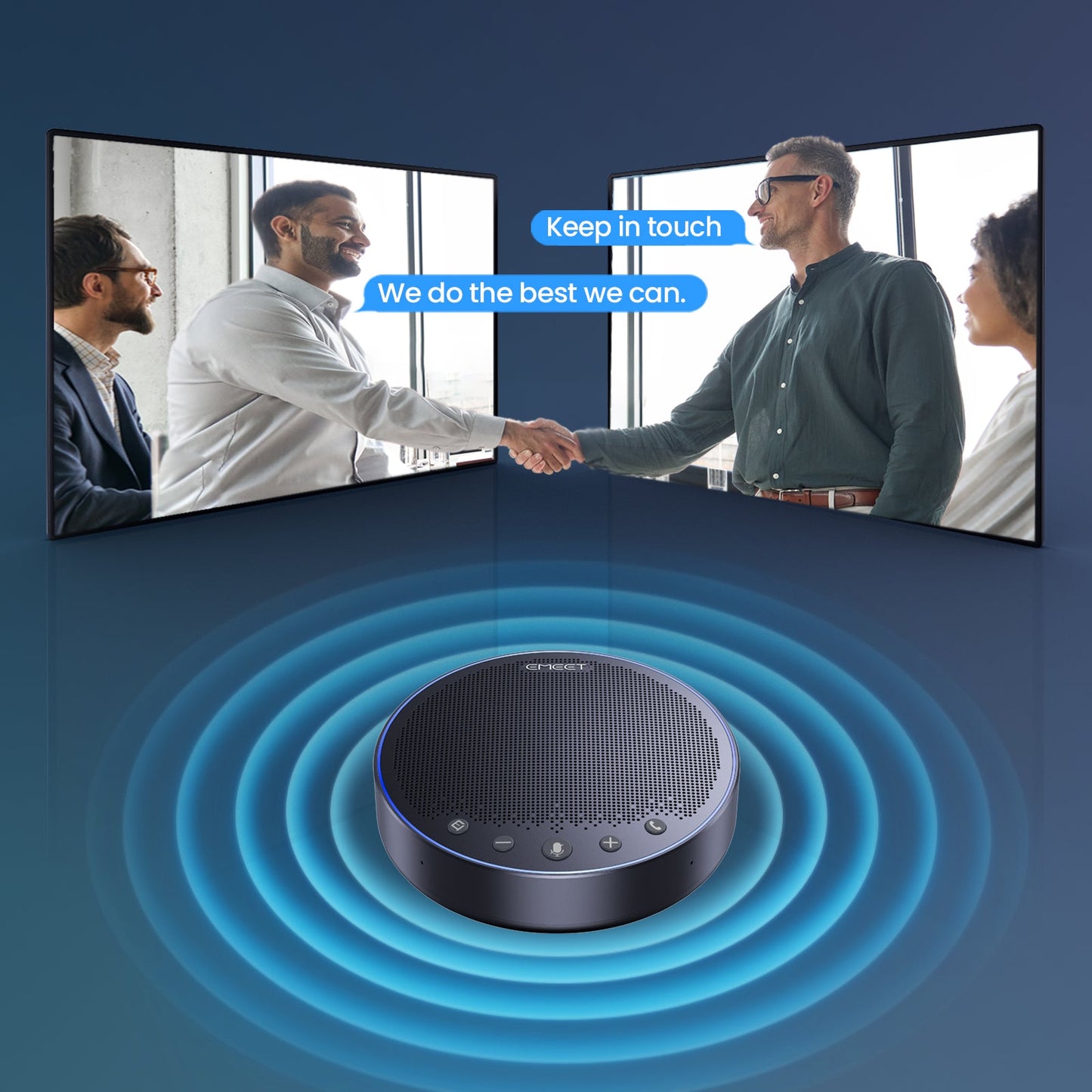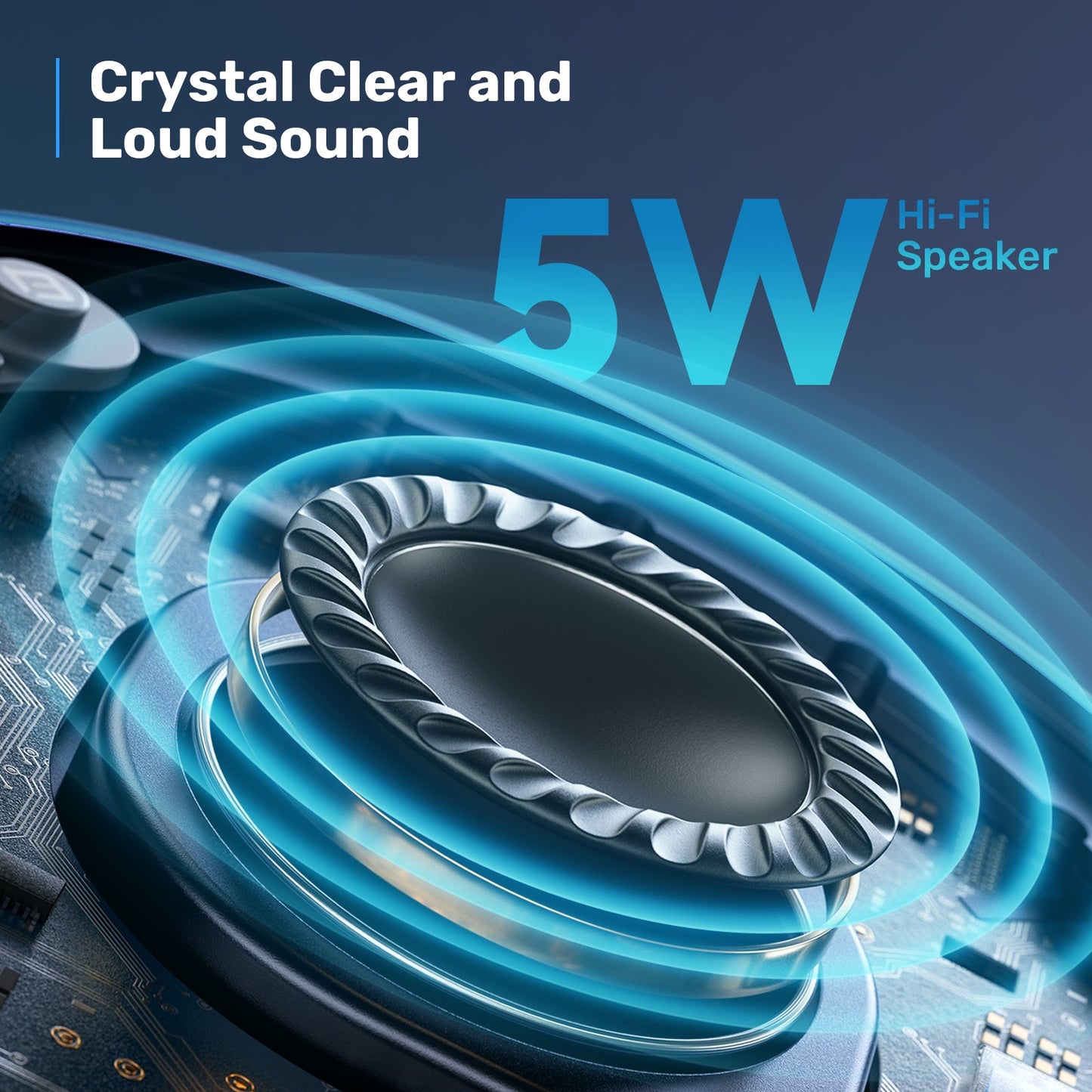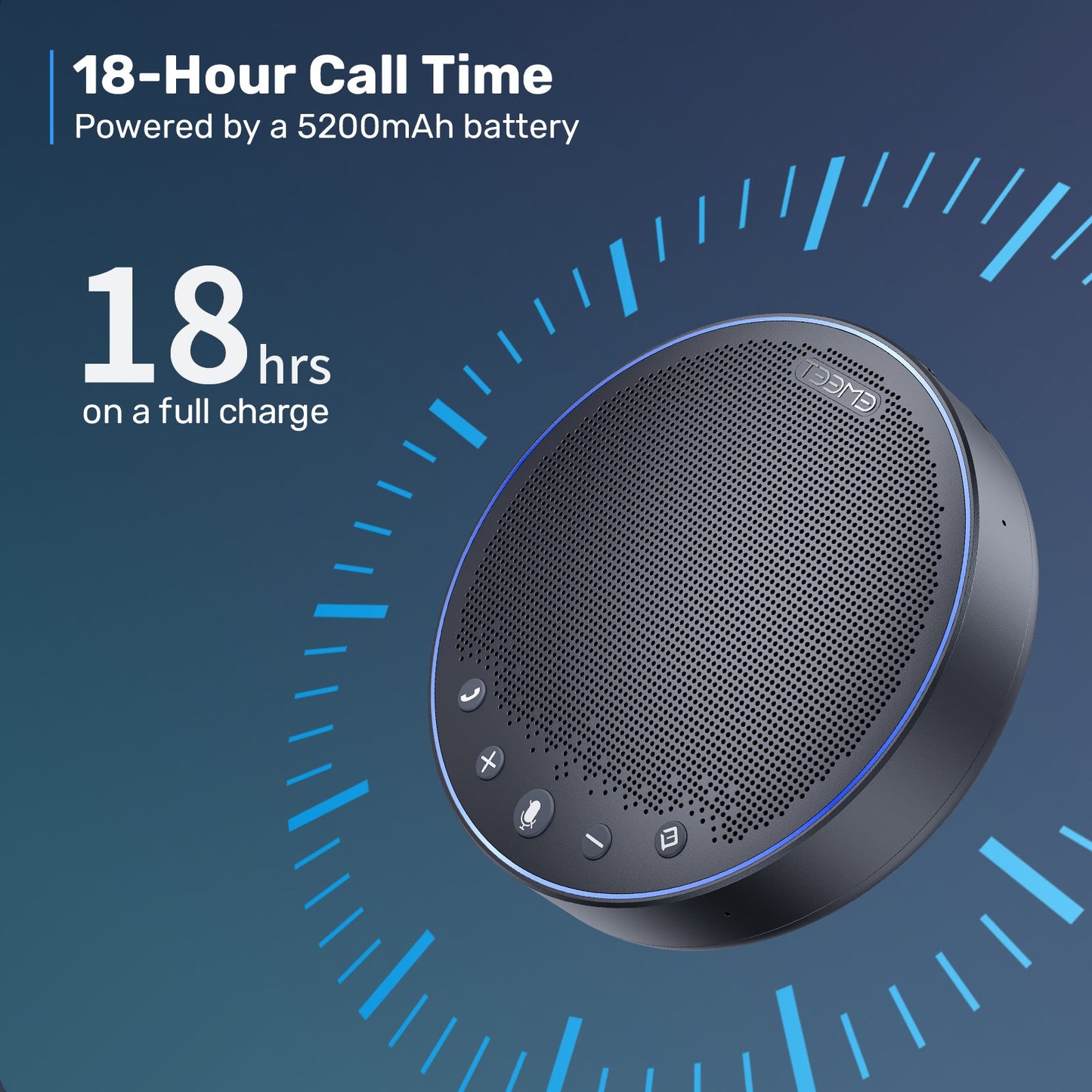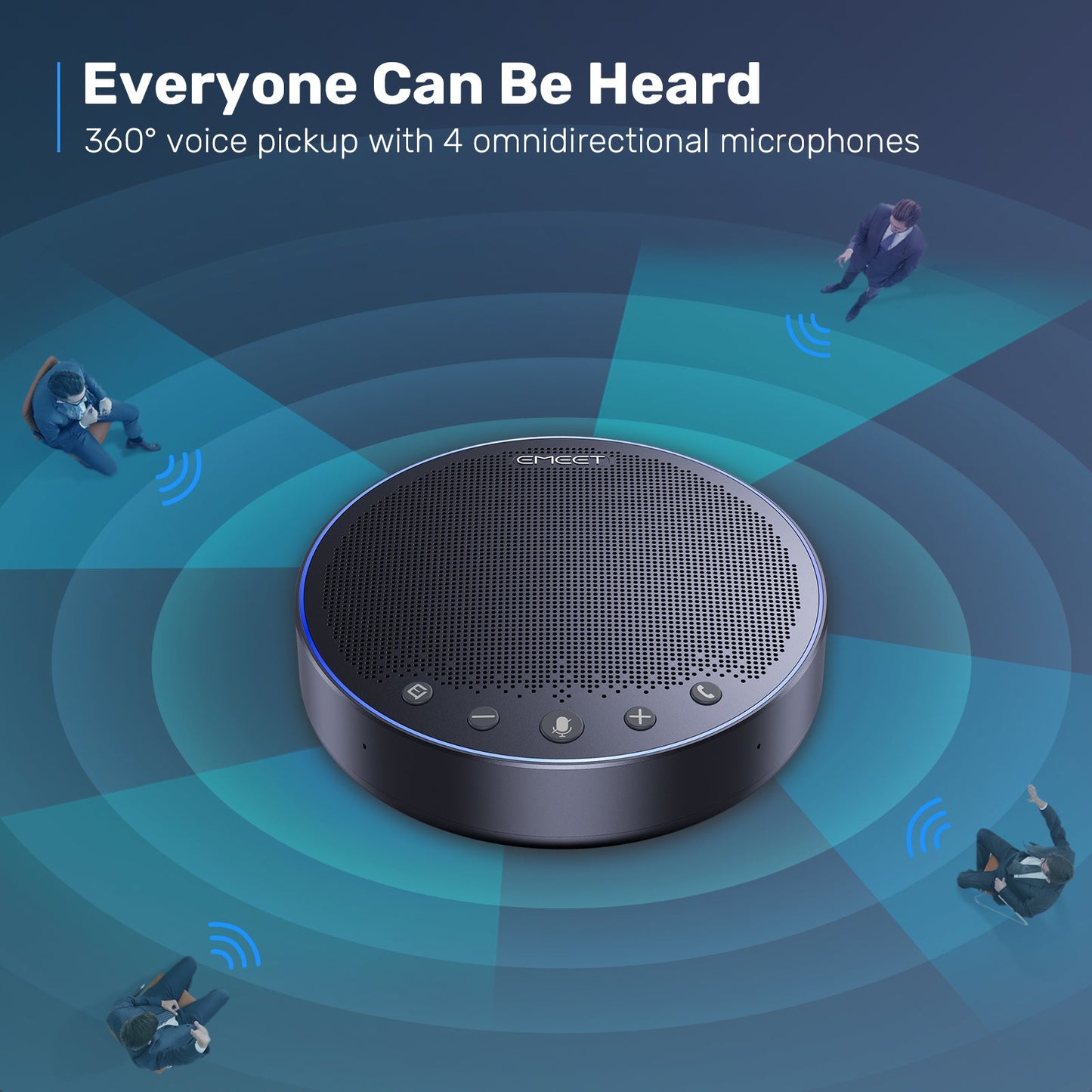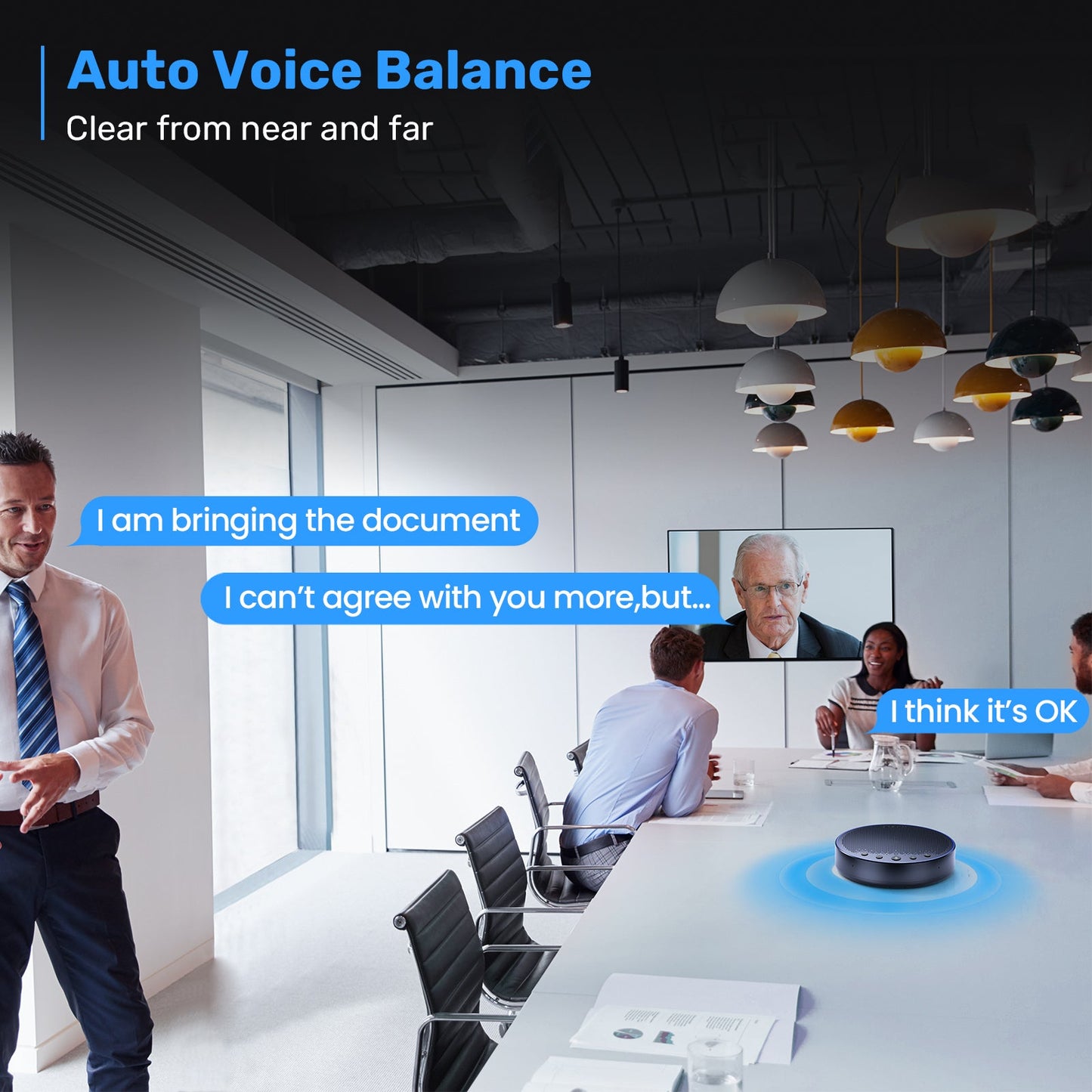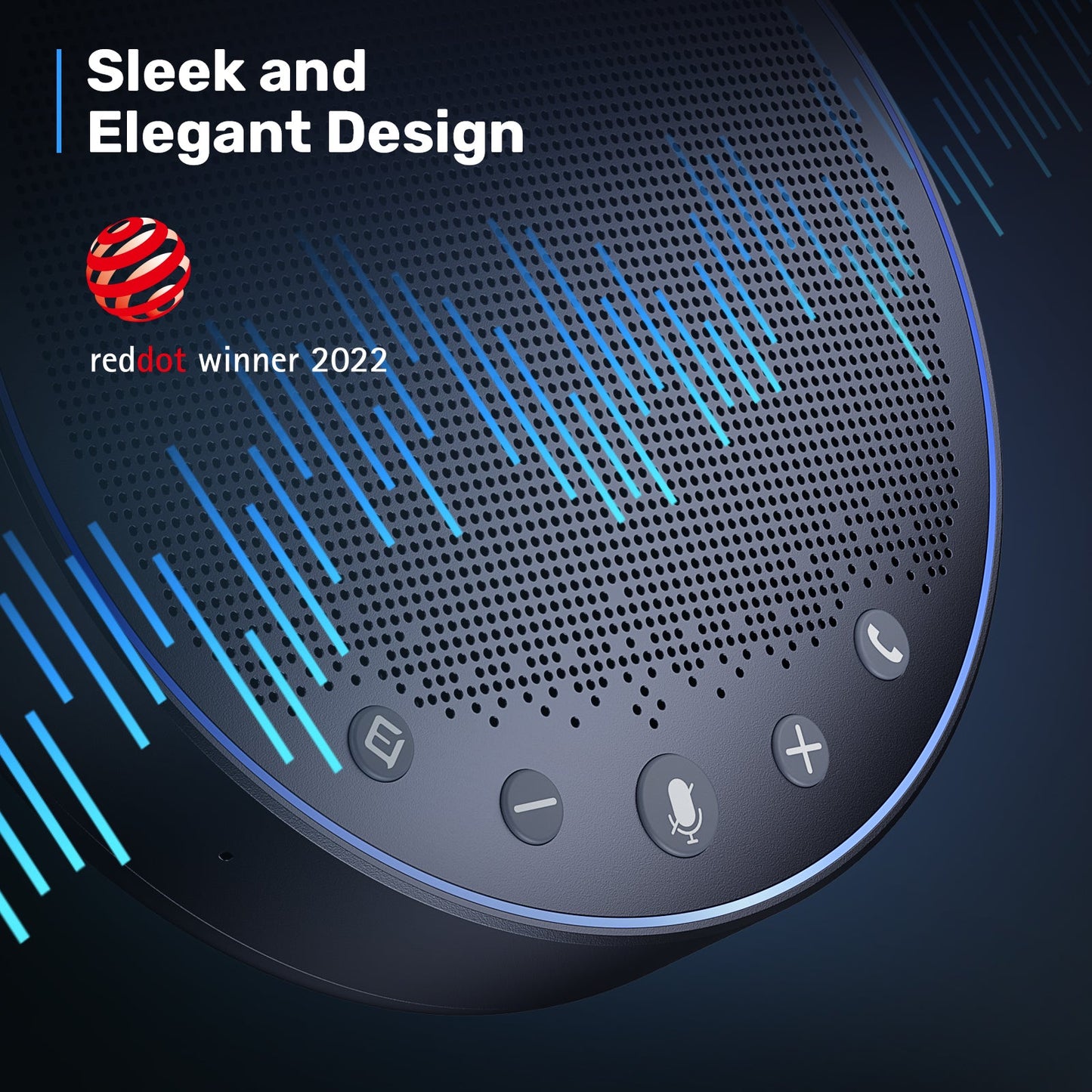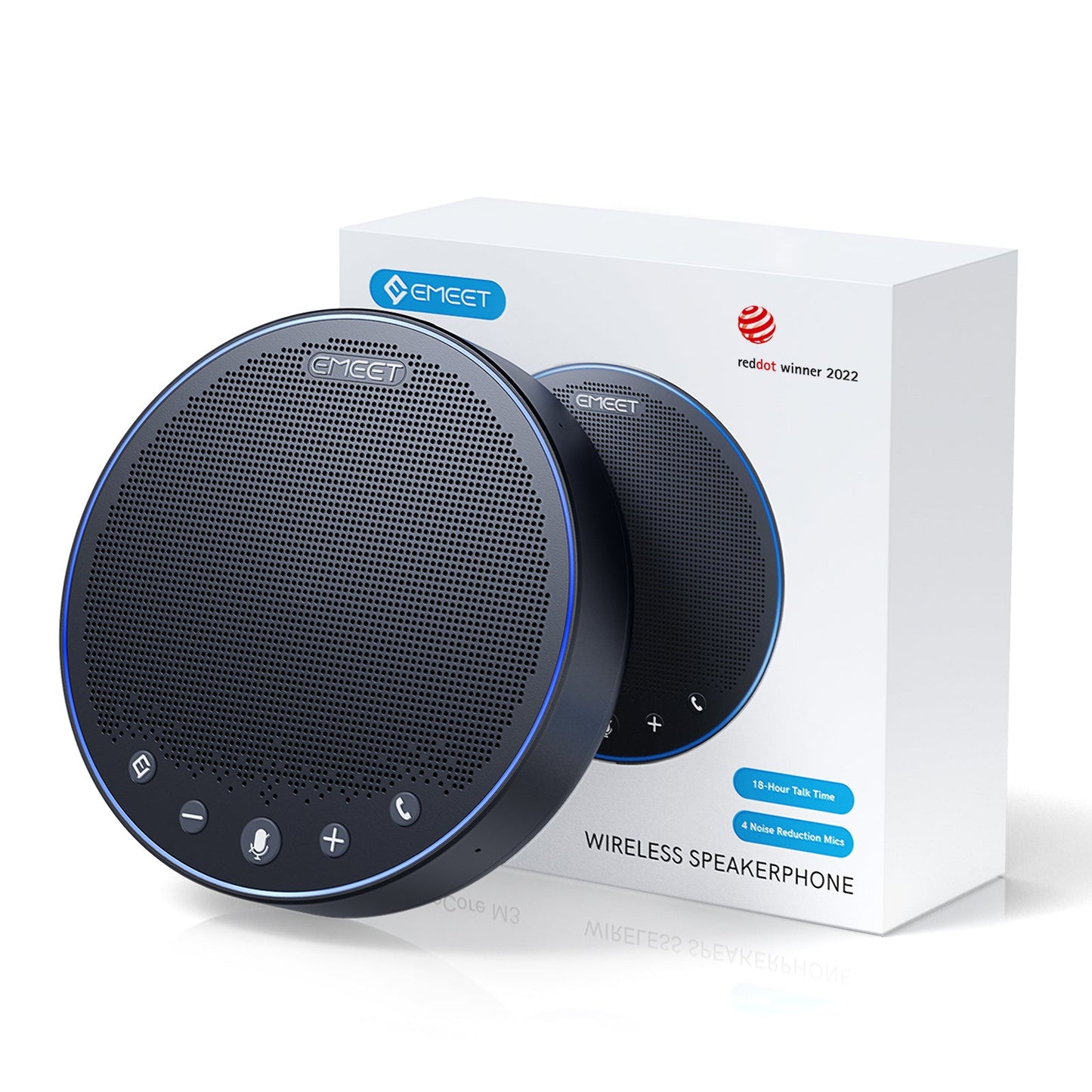 ¥34,398
¥42,299
メーカー希望小売価格

Translation missing: en.Quiet Your Noisy Environment
Colleagues talk loud outside the meeting rooms? Our exclusive noise reduction algorithm VoiceIA® effectively eliminates these distracting sounds to get your ideas clearly heard.
Translation missing: en.Smooth Two-Way Communication
Don't wait when good ideas strike! Our full-duplex tech enables you to utter your voice while hearing the other side at the time. So you can enjoy a more natural and productive meeting.

Translation missing: en.Say Goodbye to Meetings Interrupted by Low Battery
The large-capacity battery of 5200mAh and low power consumption design combine to achieve the stable operation of the speakerphone for 18 hours, avoiding unexpected interruptions of your meeting.
Translation missing: en.Easy to Use
Universal Compatibility

Compatible with all mainstream operation systems and meeting platforms.

Multiple Connection Options

Plug and play by either wired connection (USB or Aux) or wireless connection (Bluetooth or Dongle).

One-Click Mute

When you need a private talk, just click the Mute button and your conversation won't be heard by the other side.

Connect 2 Devices at Once

Without disconnecting your laptop, you can hook up your phone with the speakerphone, making multi-task more easily and quickly.

Accommodate up to 20 Attendees

Two M3 speakerphones can be linked by an EMEET daisy chain cable to support meetings up to 20 people.
TECH SPECS
Translation missing: en.AUDIO
Translation missing: en.<div class="tr"><div class="td">Microphone Array:</div><div class="td">4 Directional Microphones</div></div> <div class="tr"><div class="td">Mic Sample Rate:</div><div class="td">16kHz HD Voice</div></div> <div class="tr"><div class="td">Speaker:</div><div class="td">5w*1, 89dB</div></div> <div class="tr"><div class="td">Microphone Technology:</div><div class="td">Voice Hunting Ring Light, 360° Voice Pickup, Full Duplex, Noise Cancellation, Voice Enhancement</div></div>
Translation missing: en.BATTERY
Translation missing: en.<div class="tr"><div class="td">Battery Capacity:</div><div class="td">5200mAh</div></div> <div class="tr"><div class="td">Battery Type:</div><div class="td">Lithium-ion</div></div> <div class="tr"><div class="td">Talk Time:</div><div class="td">Up to 18h</div></div> <div class="tr"><div class="td">Charge Time:</div><div class="td">4-5 hrs</div></div>
Translation missing: en.CONNECTION
Translation missing: en.<div class="tr"><div class="td">Connection Method:</div><div class="td">USB-C Cable, Bluetooth, USB Dongle, 3.5mm Jack</div></div> <div class="tr"><div class="td">USB Cable:</div><div class="td">Type A to C, 1m</div></div> <div class="tr"><div class="td">Wireless Frequency:</div><div class="td">Bluetooth 5.0</div></div> <div class="tr"><div class="td">Bluetooth Adapter:</div><div class="td">EMEET A300</div></div> <div class="tr"><div class="td">Connected Devices:</div><div class="td">2 Devices Simultaneously via Bluetooth</div></div> <div class="tr"><div class="td">Supported Bluetooth Profiles:</div><div class="td">A2DP, AVRCP, HFR Profiles, SBC codec</div></div>
Translation missing: en.USAGE
Translation missing: en.<div class="tr"><div class="td">Meeting With:</div><div class="td">Up to 12 people</div></div> <div class="tr"><div class="td">Daisy Chain:</div><div class="td">Up to 20 people</div></div> <div class="tr"><div class="td">Recommended For:</div> <div class="td">Workspace & Home Office, Huddle Room, Medium Room</div></div> <div class="tr"><div class="td">Software Supported:</div><div class="td">EMEET Exclusive Software EMEETLINK</div></div>
Translation missing: en.COMPATIBILITY
Translation missing: en.<div class="tr"><div class="td">Compatibility</div><div class="td">Works with Zoom, Microsoft Teams, Webex, Skype, etc.</div></div> <div class="tr"><div class="td">Operating System</div><div class="td">Windows 7, 8, 10, or later, Mac OS 10.10 or later</div></div>
Translation missing: en.GENERAL
Translation missing: en.<div class="tr"><div class="td">Dimensions(W*H*D): </div><div class="td">5.3 in* 5.3 in*1.4 in (135mm*135mm*35mm)</div></div> <div class="tr"><div class="td">Weight:</div><div class="td">0.86 lb (390g)</div></div> <div class="tr"><div class="td">Award:</div><div class="td">2022 Reddot Winner</div></div>
WHAT'S IN THE BOX
Translation missing: en.<ol> <li>EMEET OfficeCore M3</li> <li>User Manual</li> <li>USB-C Cable</li> <li>USB Dongle A300</li> <li>Safety Guide</li> <li>Carrying Bag</li> </ol>
Translation missing: en.FAQ
Translation missing: en.<strong>What is VoiceIA<sup>®</sup>4.2 Algorithm?</strong>

Translation missing: en.VoiceIA<sup>®</sup> is an EMEET independent research and development acoustic technique. Turning on VoiceIA<sup>®</sup> noise reduction can greatly reduce some noises during meetings, such as keyboard tapping, air conditioning noise, and general unwanted background noise. It can offer crystal-clear audio when you call
Translation missing: en.<strong>What about the battery life and capacity of the EMEET Bluetooth Speakphone M3?</strong>

Translation missing: en.The M3 has a built-in 5200 mAh battery and when it is fully charged typically supports a 18-hour continuous call. It will take about 4-5 hours to get fully charged if you use a regular household outlet. But the Charging Time may vary depending on the remaining battery power and battery condition
Translation missing: en.<strong>How to use the daisy chain(Cascade Function)?</strong>

Translation missing: en.Use an EMEET daisy chain cable to connect the OUT/LINK ports of each device. Source light of the device shows green under the USB connection. Source light of the device shows ice blue when Daisy chains another device. Source light of the device shows blue under Bluetooth connection. Source light of the device shows ice blue when Daisy chains another device. Note: Microphone Mute button、Volume "+" "-" button、VoiceIA<sup>®</sup> button can be synchronized while cascading. It's an extension of a mono speaker and microphone to improve the range, not stereo
USER MANUAL
Translation missing: en.EMEET OfficeCore M3 User Manual
Download Now
( カスタマー サービス )
お問い合わせお待ちしております。