EMEET GeniusCall HS150
EMEET GeniusCall HS150 is a wireless over-ear noise-canceling headphone with microphones that provide you with ultimate comfort and long-time listening up to 48 hours. The best choice for clear calls in the noisy open office.
Excellent Noise Cancellation

6 properly-placed microphones pick up your voice in noisy environments, and at the same time remove the ambient noise with our VoiceIA® smart algorithm.

All-Day Comfort

The over-ear design offers the greatest comfort and noise isolation by cupping your ears within the ear cushions. Memory foam padding and soft protein leather touch your skin without squeezing your ears, so you can wear it all day long.

Connect Two Devices at Once

You can connect your phone and laptop to it at the same time. It's easy to switch to and fro - a very friendly function for multi-tasking.

48 Hours Battery Life

Don't worry, your meetings won't be interrupted by the low battery of your headphone. 15-minute fast charging supports calls totaling up to 6 hours.

Concentrate or Connect

Choose among three modes to shut the ambient noise outside your world and get focused or to hear what happens around you and feel connected.
優れたノイズキャンセリング性能

適切な位置に配置された6つのマイクが、環境ノイズの多い場所でもあなたの声を確実に拾います。環境ノイズの除去には、VoiceIA® スマートアルゴリズムを使用しています。

長時間使用しても疲れない

オーバーイヤースタイルを採用。イヤークッションで耳を覆い、きわめて快適な装着感とノイズアイソレーション機能を確保しています。肌にやさしい低反発パッドとソフトなプロテインレザーを素材に使用。耳を圧迫することなく、1日中つけていても快適です。

同時に2つのデバイスと接続可能

たとえば携帯電話とノートパソコン、2つのデバイスと同時に接続できます。デバイスの切り替えも簡単。マルチタスク業務に適した、使い勝手の良い機能です。

バッテリー駆動時間は 48 時間

ヘッドホンのバッテリー残量切れで会議が中断することもありません。15 分間の急速充電で、最大 6 時間の通話が可能です。

モード切り換えで、音環境を自分で選択

選べる3つのサウンドモード。周囲のノイズをシャットアウトして自分の世界に集中できる一方、周囲の音を自然に聞きながら作業することも可能です。
For buying in bulk or other inquiries, feel free to contact us.
Exclusive Extended Warranty
Exclusive Extended Warranty
Hassle-free Customer Service
Hassle-free Customer Service
Introduction Video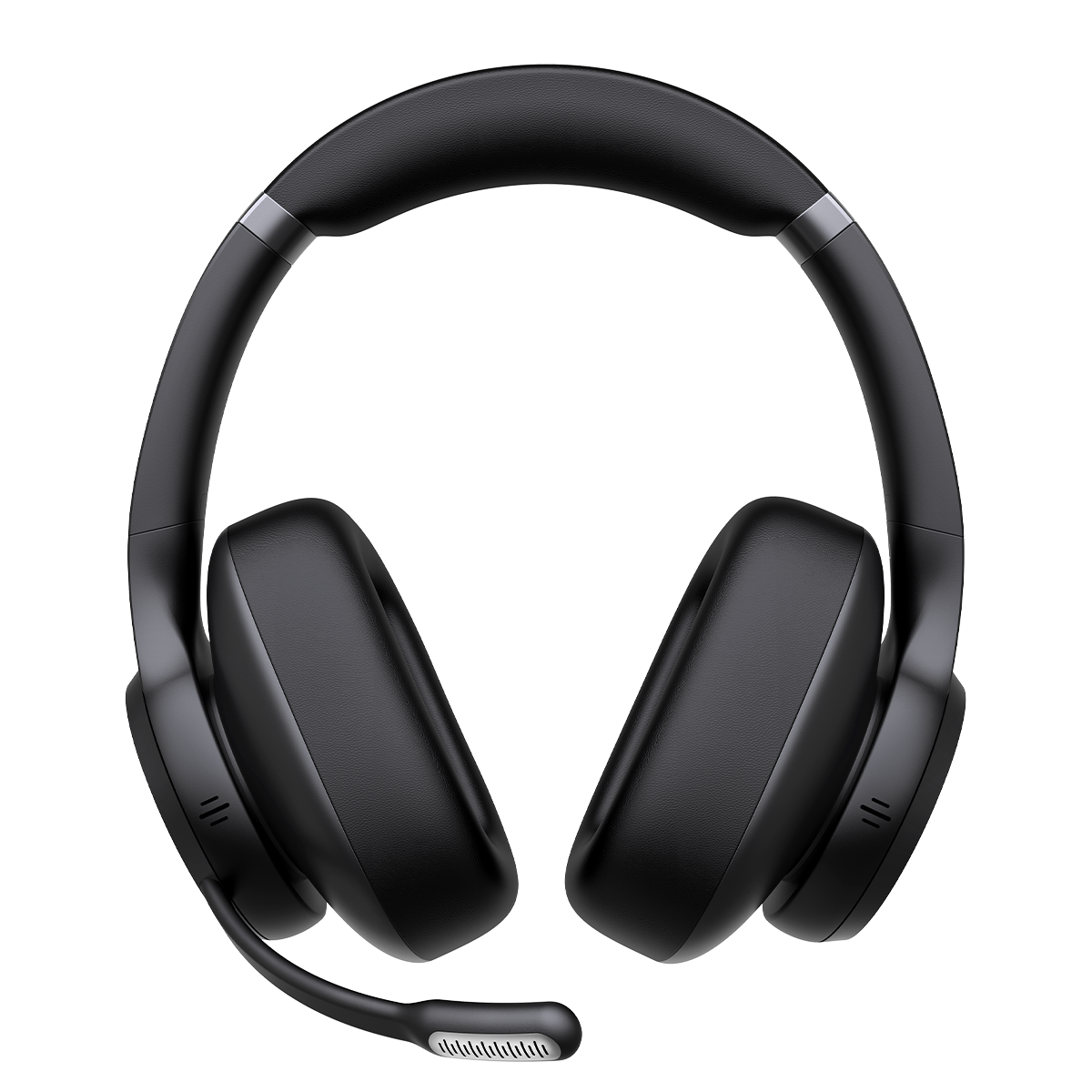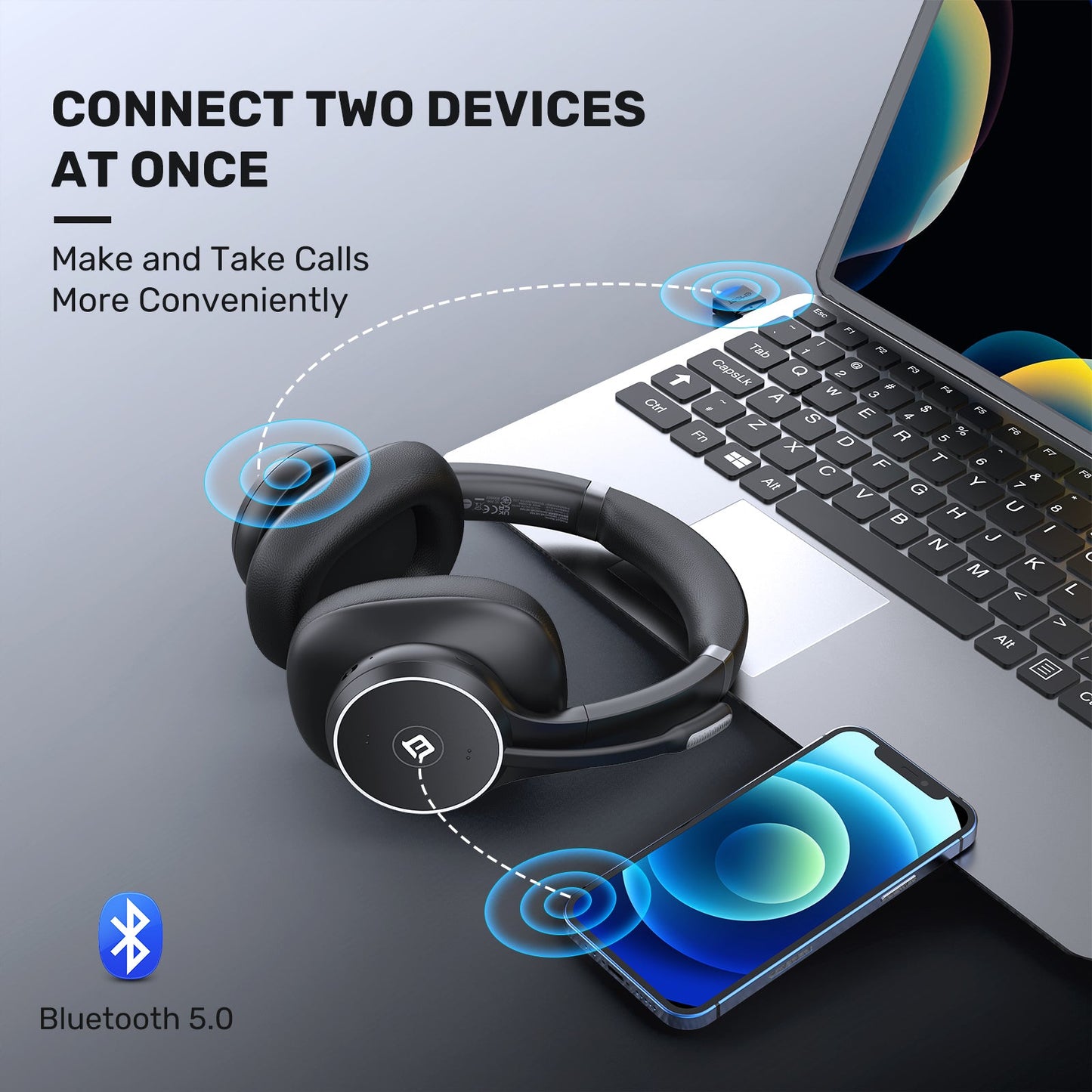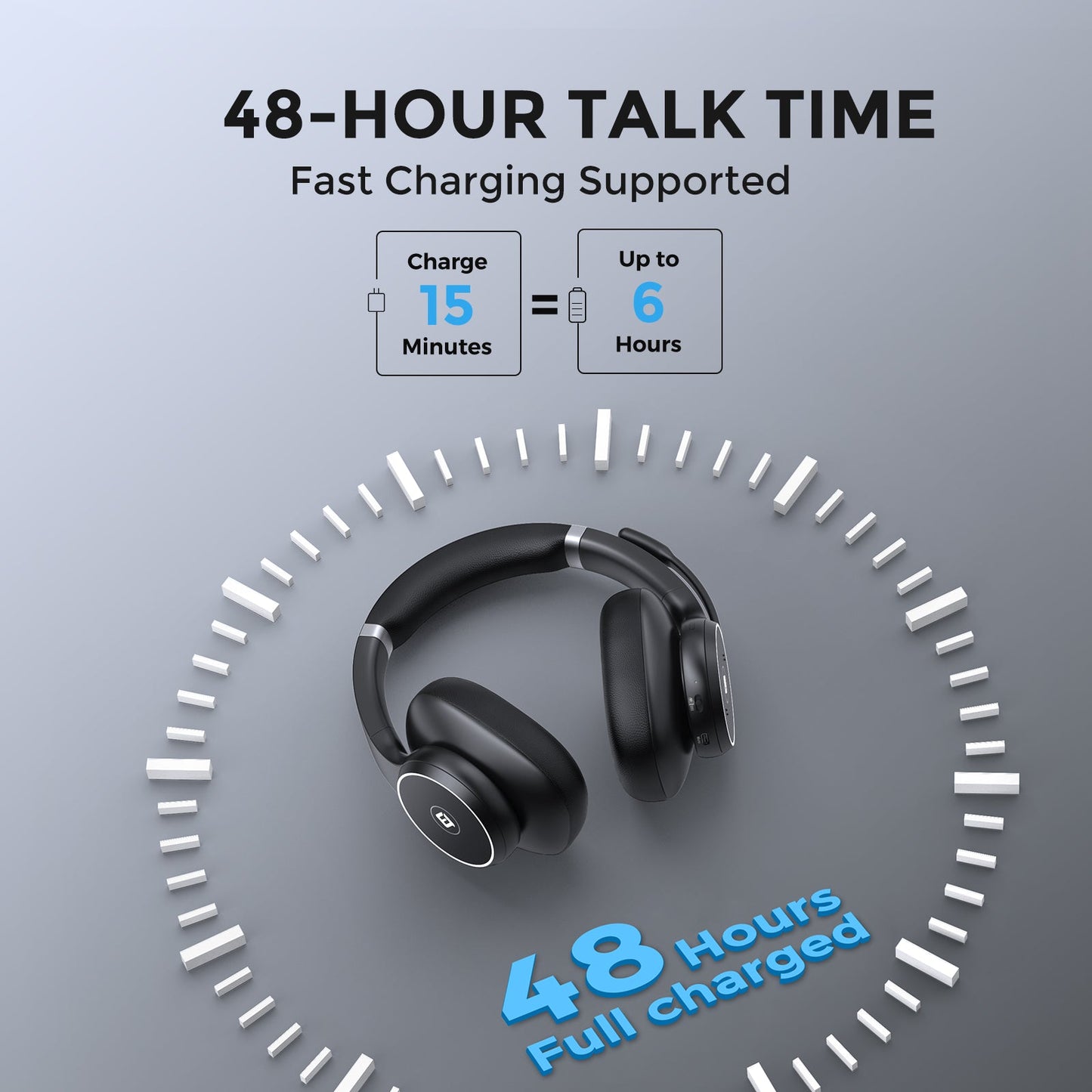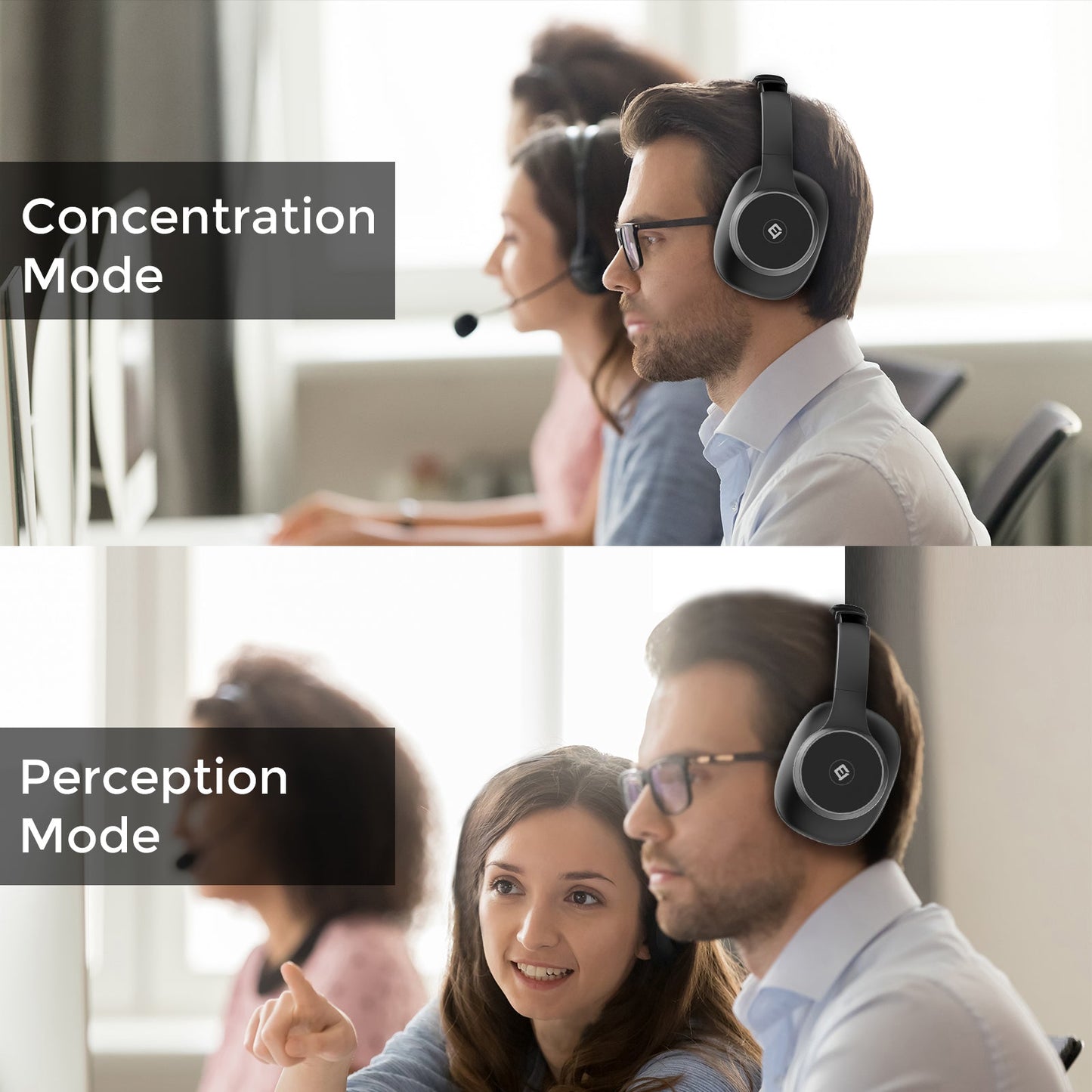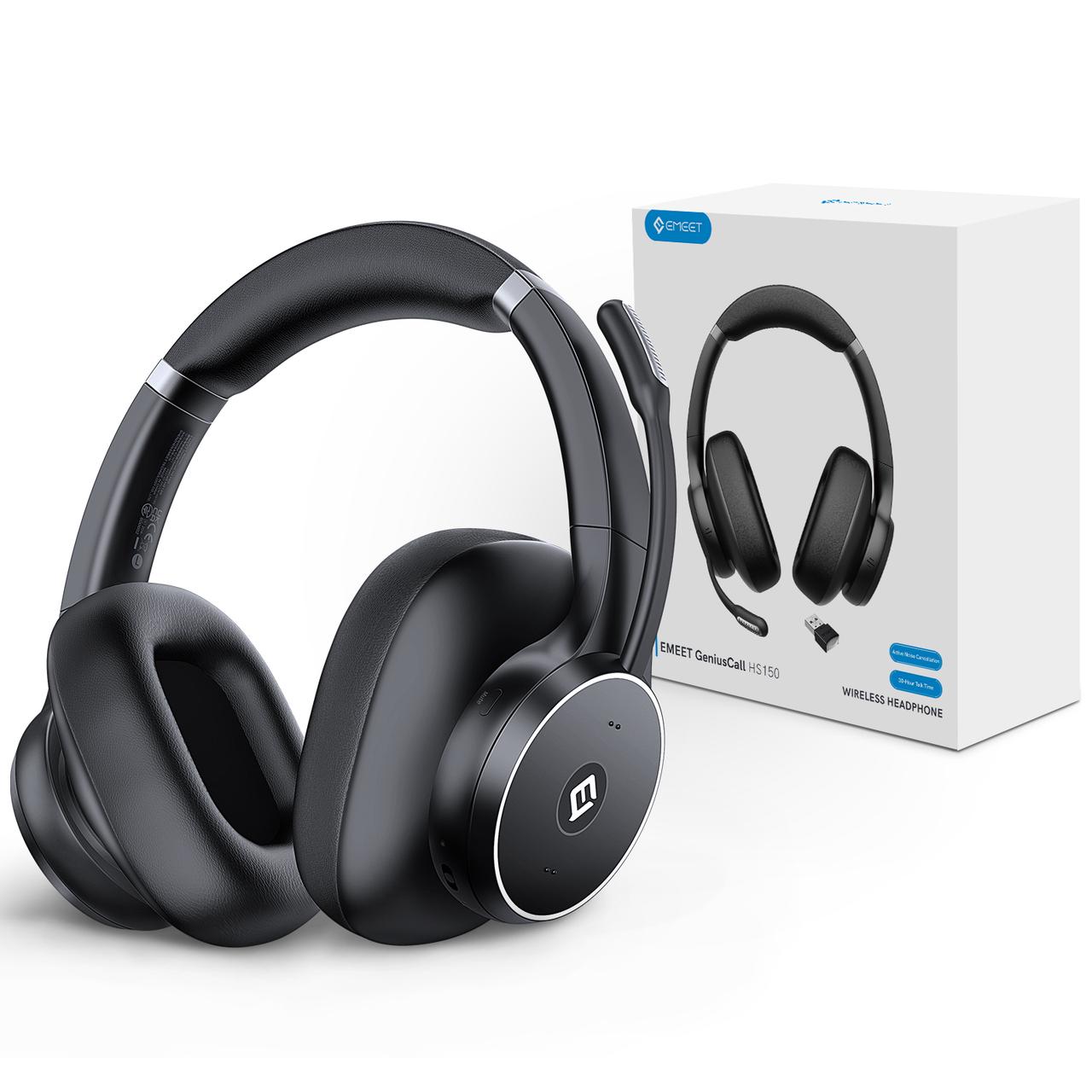 Enhanced Voice Clarity in Noisy Offices
Our exclusive noise reduction algorithm VoiceIA® filters out background noise around you to ensure you are clearly heard by the other end of the call.

Wear it. Forget it.
Featuring an ergonomic design, the lightweight headband and soft ear cushions apply little tension to your ears. You can wear it for long hours without feeling pain or soreness.

Your World Within, Noise Without
Turn on the Active Noise Cancelling mode, and isolate yourself from the distractive and annoying sound, so you can focus on your work and be more productive.

Power Your Day on a Single Charge
Alarmed by the low battery of your headphone during the call?  Battery life of up to 48 hours perfectly meets your needs even if you are a heavy call maker.

Easy to Use
Rotate to Mute/Unmute

Rotate anticlockwise the microphone boom until you hear the voice prompt of "mute". Then it's safe for you to have a personal conversation without being heard.

Connect on the Fly

Connect it to your device by a USB cable, Bluetooth, or a USB dongle. Wired or wireless, any connection is highly reliable and offers superb call quality.

Universal Compatibility

Work with mainstream meeting platforms, such as Zoom, Microsoft teams, Skype, etc.
One for All

TECH SPECS
MODEL
Product Type:
Bluetooth Headset
AUDIO
Microphone Technology:
Technology: Full Duplex, Noise & Echo Cancellation
BATTERY
Battery Life (Music):
50h
Fast Charge:
15min Charge for 6h of Talk time
CONNECTION
Connection:
USB-C Cable, Bluetooth, USB Dongle
USB Cable:
Type A - C, 2m
Wireless Frequency:
Bluetooth 5.0
Bluetooth Link Adapter:
EMEET A300
Bluetooth Range:
25m (82ft)
Connected Devices:
2 Devices Simultaneously via Bluetooth
USAGE
Recommended For:
Workspace & Home Office
WHAT'S IN THE BOX
EMEET GeniusCall HS150
Safety Guide
USB Dongle A300
USB-C Cable
User Manual
Carrying Bag
FAQ
How to turn on/off the device?

Auto power on

The device will automatically turn on when connecting to a computer via USB cable, no need to slide the on/off switch by yourself.

And the device will broadcast the power-on prompt tone to remind you.

When the device is disconnected from the computer, it will automatically turn off.

Manually power on

Slide the on/off switch to on or off position to power the headset on or off.

When it turns on/off, it will have the prompt tone to remind you.
How to use the device to make calls?


You can use the multi-function button to make calls on telephone communication and Skype for business:

A call is incoming when the headset is connected to your mobile/computer:

Short press the button to answer and hang up calls.
Long press the button for 3 seconds to reject calls.
Double click the button of the device to call back.

If there is a new call incoming when a call is still in progress:

Short press the button to answer the incoming call, meanwhile hold the current call active.

Press the button to switch between held call and active call.

Long press the button for 3 seconds to reject the call.
How to mute the microphone of the device?


When using the headset during a call, rotate the microphone to mute/unmute it.

Pressing the mute button to mute the microphone.

Short press this button to mute the device, unmute it by pressing this button again.
( カスタマー サービス )
お問い合わせお待ちしております。
Choosing a selection results in a full page refresh.